True 4K HDR Projector with Laser Light Source : Sony VPL-VW760ES
Native 4K SXRD panel : Featured in Sony's digital cinema projectors, advanced SXRD (Silicon X-tal Reflective Display) panel technology delivers native 4K (4096 x 2160) resolution images, with more than four times the detail of Full HD. Fine details are wonderfully clear and natural, without jagged edges or visible pixels.
See richer, deeper blacks :Latest SXRD 4K panels deliver even better contrast, as well as native 4K resolution. SXRD projection offers rich, inky blacks, as well as clear cinematic motion and image smoothness. Improvements to the panel's reflective silicon layer now mean even better light control, for precisely reproduced shadows and blacks.
Native 4K resolution for lifelike pictures : With more than four times the resolution of Full HD, native 4K offers 8.8 million pixels (4096 x 2160) for an incredibly lifelike image with the same resolution defined by the DCI (Digital Cinema Initiative) for cinema distribution. See corner-to-corner clarity and watch movies from much closer than you would in Full HD.
Longer lasting brightness with Z-Phosphor laser light : "The ultra-pure, reliable Z-Phosphor laser light source lets you enjoy exceptional 4K pictures with consistently uncompromised brightness levels. You can also enjoy up to 20,000 hours of uninterrupted operation, with no lamp replacement and virtually zero maintenance.
2,000 lumens for high brightness Enjoy the action with up to 2,000 lumens brightness from the laser light source, for vibrant images on screens up to 762 cm (300″).
HDR compatibility: every image comes to life : Get the most from today's UHD Blu-ray and streaming services with High Dynamic Range. HDR video offers an expanded brightness range that delivers more realistic, high-contrast images and brilliant colours. Compatible with both HDR10 and HLG (Hybrid Log-Gamma) formats. Sony's home cinema projectors reproduce colour and contrast that's faithful to the creator's intention.
Super-resolution Reality Creation : Exclusive Reality Creation technology analyses images right down to the pixel level. It uses powerful pattern-matching algorithms developed over years of movie production to enhance image crispness without increasing digital picture noise. It also upscales existing full HD Blu-ray Disc and DVD movies to near 4K quality.
Colours come alive with TRILUMINOS : Discover true-to life colours and tones. The VPL-VW760ES incorporates TRILUMINOS colour, reproducing more tones and textures than standard projectors. Hard-to-reproduce crimson reds, aqua blues, and emerald greens are displayed beautifully so landscapes and seascapes look more vivid. Faces look better, too, with faithfully reproduced skin tones.
4K Motionflow :Motionflow ensures smooth, clear on-screen action, even when viewing 4K content. Extra frames are added to reduce blur while maintaining brightness in fast-moving scenes. Cinema purists can choose True Cinema mode to retain the original 24 fps frame rate of genuine movie projection.
Virtually no maintenance :The reliable, energy-efficient laser light source reduces lifetime running costs compared with traditional lamp-based projectors. Replacement cycles reduce maintenance overheads even further.
Auto Calibration : After extended operating periods, colour can be automatically calibrated to the original factory conditions.There's no need for extra calibration equipment or cameras; a built-in colour sensor stores all the necessary information.
Filmscreen: Stewart Horizontal ScreenWall Electri-Mask EMSN136H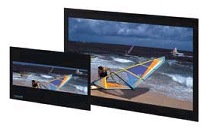 Custom made screen. Width of 3048 mm and 1.78:1 aspect ratio. With Stewart's Lucasfilm THX Ultra Certified MicroPerf, you can now more closely emulate a movie theater by placing the center channel speaker behind the screen surface and achieve the ultimate in audiophile sound without sacrificing videophile quality. All masking panels are motor driven. Lowing and retracting of the masking panels may be controlled by a variety of wall mounted or remote control systems. Frames are constructed of angular steel bars, steel plate end cover, and L-shape brackets. Masking Panel Rollers are 2″ diameter steel tubes secured to the motor.
3D Glasses: XPAND Universal 3D Glasses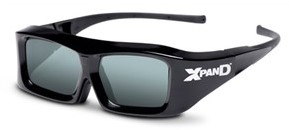 State-of-the-Art Active Shutter 3D Technology. The XPAND Universal 3D Glasses™ is blend of state-of-the-art LCD technology, high-performance software, and simple, comfortable lightweight frames that work in combination to deliver games, movies, pictures, and graphics in the highest quality 3D. By being an active solution with fast switching speed, there are no headaches, ghosting, or eyestrain often associated with some other 3D solutions.
Preamplifier: Trinnov Altitude 16
Following in the tradition of the groundbreaking Altitude32 processor, the Altitude16 brings Trinnov's award-winning Speaker/Room Optimizer technology, immersive audio capabilities, active crossovers, and unmatched bass management flexibility to a new, slightly smaller form factor with tremendous value..
Thanks to the 3D measurement capabilities of our microphone, each speaker's actual placement can precisely be localized in the room regarding distance, azimuth, and elevation. Knowing the intended placement of various sounds within the soundtrack (since we decoded it), we can then "remap" the sound objects from the theory of the soundtrack to the reality of your particular room, using the closest two or three speakers to create a phantom image of the sound where it should be. While 2D remapping deals mainly with the horizontal plane, 3D remapping will manage both azimuths and elevations.
The standard version of the Altitude16 natively decodes Dolby Digital Plus®, Dolby TrueHD®, DTS Digital Surround® and DTS-HD Master Audio® It also includes all immersive codecs by default so you can experience a new world of immersive sound with the latest technologies by Dolby Laboratories®, DTS Inc®, and Auro Technologies®.
Power Amplifier:
Proceed Multi-Monoaurual (AMP5) 2x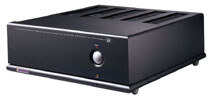 As with previous Proceed amplifiers, Madrigal has designed the AMP5 to meet the requirements set for THX certification. In addition to meeting basic noise and distortion levels, THX certified amplifiers all have the same gain, assuring compatibility with all THX certified processors and loudspeakers.
Power Amplifier: 

the t.amp E400 Stereo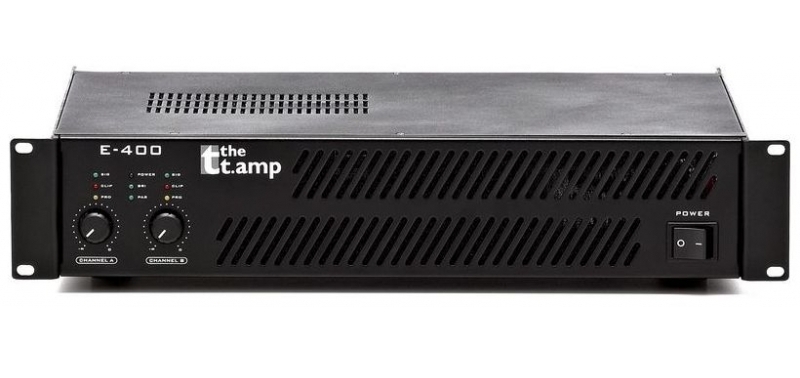 Stereo amplifier for front wide speakers, 2x 120 W at 8 Ohm, 20 – 20.000 Hz.
Blu-ray-Player: OPPO BDP-93EU

Universal Network 3D Blu-ray Player. This is the company's second generation Blu-ray player with new features including Dual HDMI outputs, Wireless-N networking, Marvell KYOTO G2 chipset, and 3D support. Per-pixel motion-adaptive de-interlacing and advanced scaling transform the standard definition image on DVDs to high definition output to your Screen. Additional Qdeo video processing options help to deliver a clearer, smoother, and true-to-life picture free of noise and artifacts.
HD-DVD-Player: Toshiba HD-XE1

Toshiba's 1080p-outputting HD DVD player, the HD-XE1, is at last available in the UK. As well as being the first-available 1080p HD DVD player (well, Tosh is the prime mover of the format), the HD-XE1 also betters its cheaper stablemate, the HD-E1, by having the latest version of HDMI – V1.3 – and a number of extras. Both Tosh models can upscale standard-definition DVDs to 720p and 1080i resolutions – output via HDMI – but the HD-XE1 adds full 1080p HD upscaling, as well as play back, and other goodies. There's a 297MHz/12-bit video DAC that supports Deep Color technology – an option added to the HDMI standard in version 1.3 and reckoned by Toshiba to improve colour tones and achieves finer colour gradation.
SAT-Receiver: TechniSat TechniStar S3 ISIO
The TechniStar S3 is a HDTV digital satellite receiver with a wide range of features and additional benefits.
Chime Generator :
CINE GONG
CINE GONG is a newly developed module designed for creation of a chime sequence of highest tonal quality. A traditional, mechanical "UFA" – chime generator with the renowned four descending tones was the exemplary model. This incomparable chime was, in it's time, found in nearly all german cinemas. Many substitutes followed. None reached the quality of the original. One of these "UFA" – chimes was specially restored and tuned in preparation for digital sampling.
Front Speakers:

Triad InWall Gold/10 LCR

THX Certified
Max. Power 300 Watts
Sensitivity 91dB (2.83v,1m)
2 Pi Frequency Response: 80Hz – 20kHz (+/-3dB)
Front Wide:
JBL Professional 9300
Cinema Surround Loudspeaker 2-Way Passive 1″ HF, 10″ Woofer (2″ VC)
The 9300 Cinema Surround offers high 250 Watt power handling capability, high sensitivity, and extended base response in a groundbreaking design. The two-way 9300 features new transducer technologies, waveguide and horn designs developed specifically to produce studio quality performance with pattern control tailored to modern theatre geometries.
Surround Speakers:
JBL Professional 8340A

High Power Cinema Surround System
Approved by Lucasfilm, Ltd. for THX® system installations.
Ceiling Speakers: Klipsch PRO-7800-S-THX
Two 1" Titanium Dome Neodymium Tweeters in a Diffuse Tractrix® Horn Array
8" Aluminum Woofer
THX® Ultra2 Certified
Cinema Quality Sound
Maximum Installation Reliability
Unlimited Flexibility
Edge-to-Edge Grille
Powered Sub Woofer:
BIG BAD WOOF DS-118 + DIGITAL 600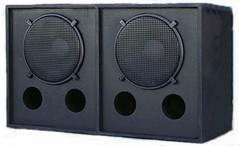 Single channel digital pulse width modulation powered 18″ single subwoofer. The DIGITAL 600 Subwoofer Amplifiers utilizes true Class-D Pulse Width Modulation technology to provide an effortless 600 Watts of continuous power (900 Watts peak) into 4 Ohms. (SMART DS-574 THX approved)
side wall Sub Woofers:
 custom made with powersoft Audio duecanali 1604
HTPC: Home Theatre PC with Windows 10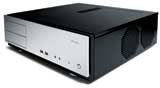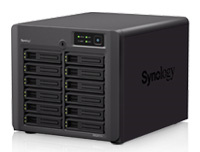 Synology DS2411+, with currently up to 36 TB storage space available.
Cyber Power UPS Value 600VA, provides emergency power to the nas.